Feed Line Health Prevention In Livestock
Dietary complementary foods - minerals, vitamins, trace elements

View products
Contact us
A range of formulas with specific & precise technical objectives
Made in France on certified production chains. Formulas requested by breeders, veterinarians. Efficient logistics
Manufacturing quality
French manufactures that rigorously meet current UE standards, according to a specification of good practices.
Efficient formulas
Formulations developed with veterinarians, responding to the needs identified in current or critical phases in livestock.
Efficient logistics
Feed Line services – deliveries, packaging, conditions – meet the specific expectations of veterinarians and breeders.
Feed Line ruminants
Formulations for ruminants – all productions

Feed Line other farms
Formulations for pigs, poultry, etc.

Feed Line formulas for ruminants
FEED OLIGO BIOTINE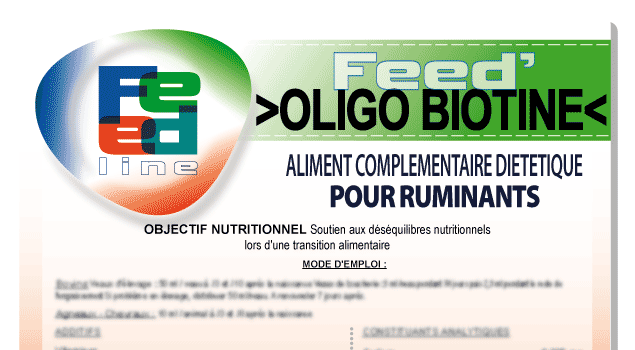 NUTRITIONAL OBJECTIVE:
Support for nutritional imbalances during a dietary transition / immunity / digestive and cellular metabolism / nervous balance / reproduction… Biotin is indicated for better quality of the hooves.
For:
Dairy geniuses, Farmed calves, kids, Lambs
Cattle, sheep, adult goats. Broutards and reproduction sheep
Packaging:
5 liters can
FEED LV SE40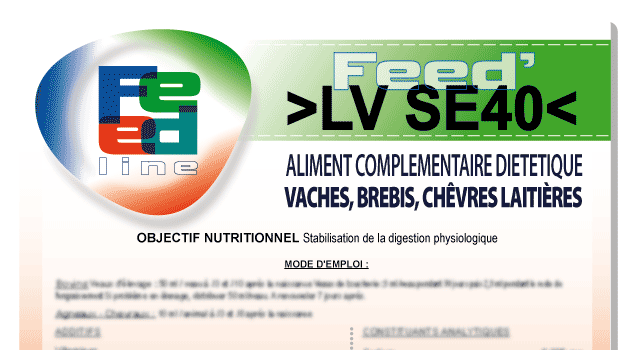 NUTRITIONAL OBJECTIVE:
Stabilization of physiological digestion. Securing food transitions, stimulates rumen metabolism improves the recovery of rations. Promotes immune strengthening, contributes to better ongoing lactation management
For:
Cows. Cows to fatten. Sheep. Dairy goats
Packaging:
25 kg bag
FEED BOLUS BIOTINE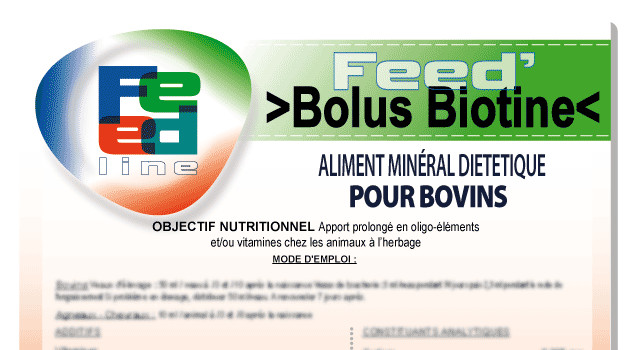 NUTRITIONAL OBJECTIVE:
Prolonged intake of trace elements and/or vitamins in grassy animals
For:
Cattle, Farmed Calves, Beef Calves, Lambs, Horses
Packaging:
5 litre can
FEED IMMUNITE FE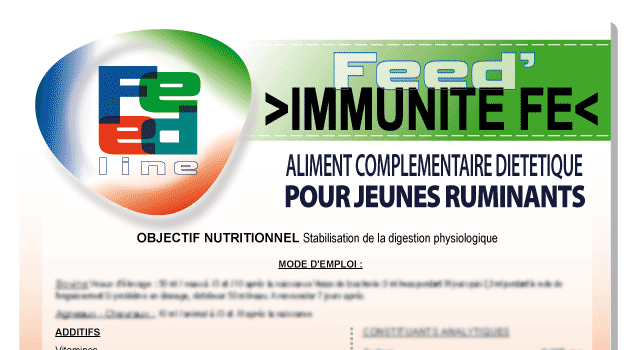 NUTRITIONAL OBJECTIVE:
Stabilization of physiological immune digestion. Recommended for preventing infectious stress, vaccination, convalescence and reinforcement
For:
Farmed calves. Lambs
Packaging:
1 kg pot with pod
Feed Line formulas for ruminants
FEED START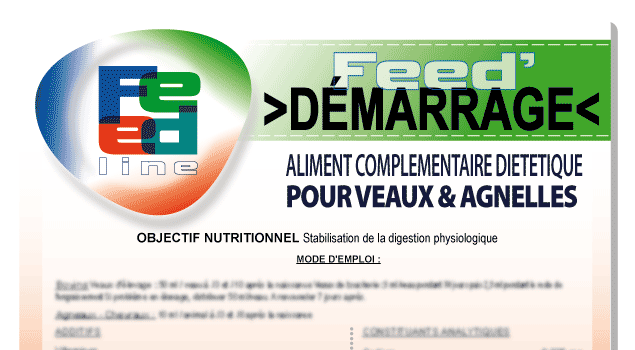 NUTRITIONAL OBJECTIVE:
Recommended for preventing infectious stress, or during vaccination periods, convalescence (during antibiotic therapy) and contributes to immune strengthening.
For:
Calves, lambs
Packaging:
In a 20 kg bag
FEED HEPATO PROTECT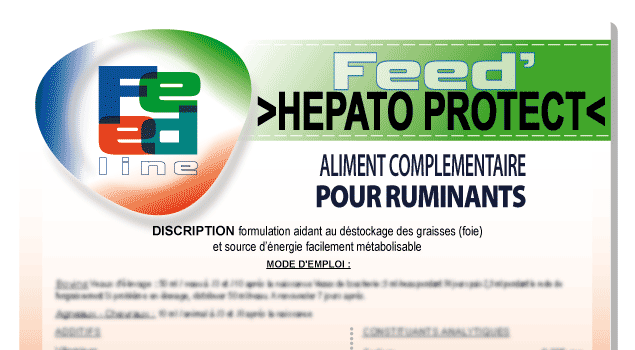 NUTRITIONAL OBJECTIVE:
Helps to destock fats in the liver (vitamin PP, Choline…). In rumen protected form (improvement of assimilation An easily metabolizing energy source
For:
Dairy cows or fattening. Sheep- Dairy Goats
Packaging:
Bag of 10 or 25 kg
FEED LVS E40 MYCO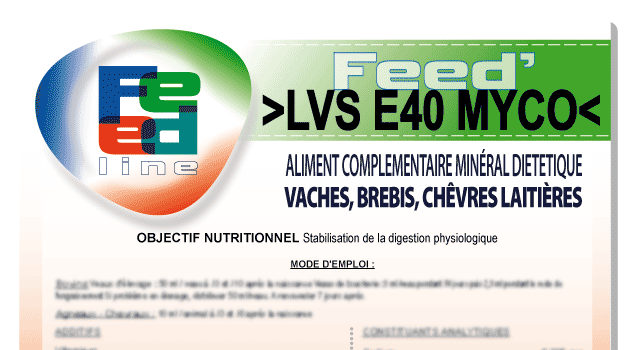 NUTRITIONAL OBJECTIVE:
Stabilization of physiological digestion, secures food transitions, stimulates rumen metabolism and improves the recovery of rations. Immune strengthening contributes

to

better ongoing lactation management
For:
Dairy cows sheep and dairy goats
Packaging:
25 kg bag
FEED AD3E SW20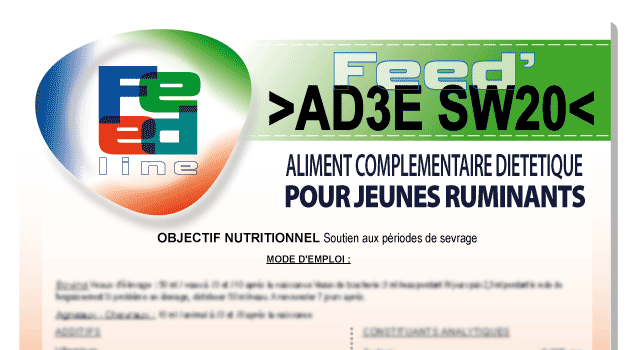 NUTRITIONAL OBJECTIVE:
Support for withdrawal periods.
For:
Breeding calves, beef calves, lambs, horses
Packaging:
5 liters Can
Feed Line formulas for ruminants
FEED OLIGOVIT TABLET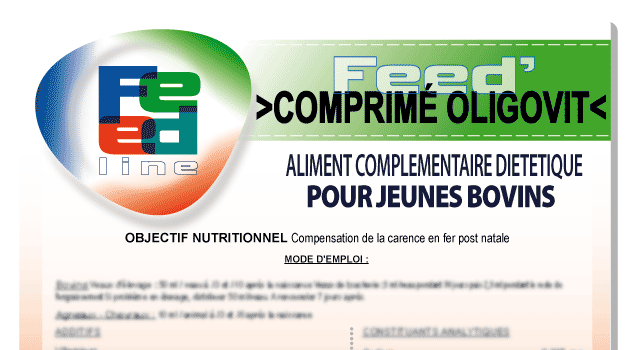 NUTRITIONAL OBJECTIVE:
Growth, start, compensation for post-natal iron deficiency
For:
Calves under mother or dairy heifers
Packaging:
In jar of 50 tablets of 12 g
PS TABLET FEED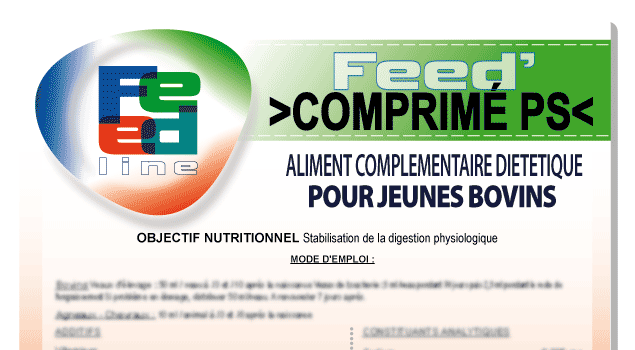 NUTRITIONAL OBJECTIVE:
Stabilization of physiological digestion
For:
Calves under mother or dairy calves (heifers…)
Packaging:
In jar of 15 tablets of 10 g
FEED BOOST LAMBS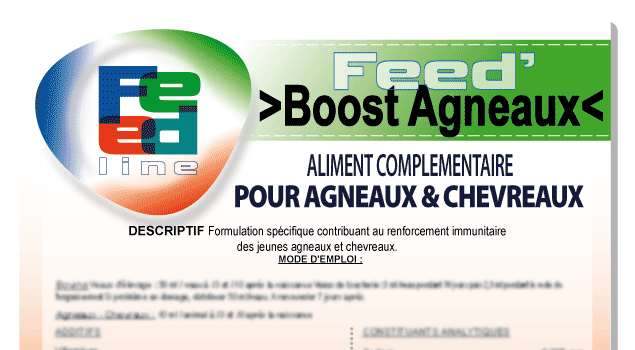 NUTRITIONAL OBJECTIVE:
Contributes to the immune strengthening of young lambs and children. Contributes to improved intestinal integrity and immunity
For:
Lambs, Horses
Packaging:
250 ml bottle with built-in dose pump (125 doses)
FEED HYDRA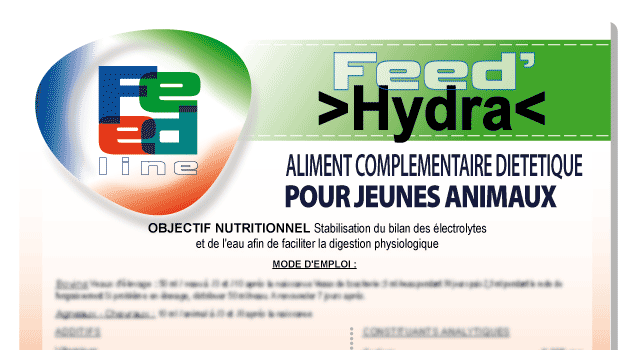 NUTRITIONAL OBJECTIVE:
High buffer moisturizer. Regulates intestinal transit in young animals (improved motility, increased viscosity, prevention of intestinal irritation)
For:
Young animals
Packaging:
1 kg pot with pod
Feed Line formulas for pigs, poultry, other…
FEED E SEL SW10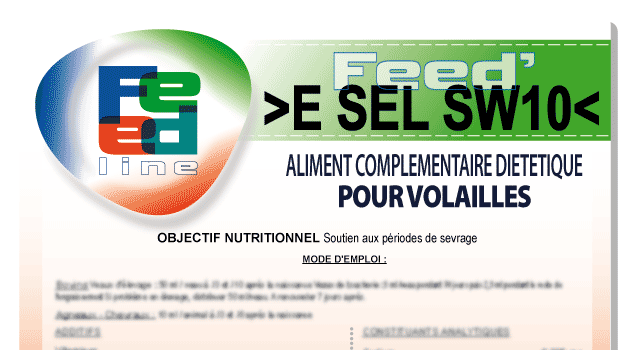 NUTRITIONAL OBJECTIVE:
Compensation for bad absorption. Recommended in situations of infectious stress, heat stress, vaccination, periods of convalescence, or immune strengthening
For:
Chickens, Laying Hen
Packaging:
In 5 liters can
FEED HYDRA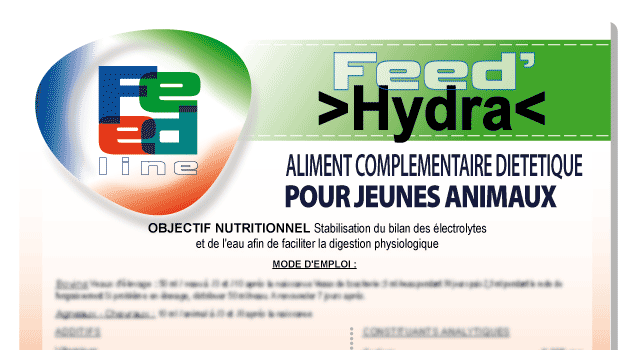 NUTRITIONAL OBJECTIVE:
High buffer moisturizer. Regulates intestinal transit in young animals (improved motility, increased viscosity, prevention of intestinal irritation)
For:
Young animals
Packaging:
1 kg pot with pod
FEED LVS SE100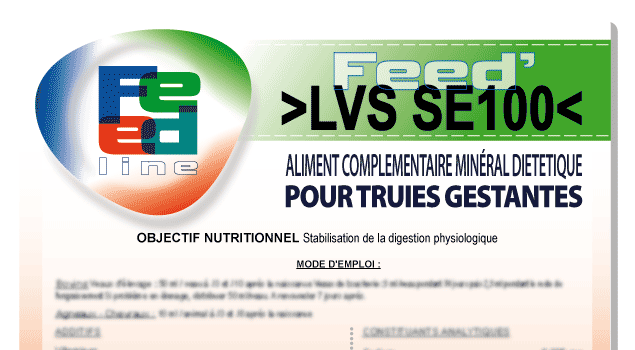 NUTRITIONAL OBJECTIVE:
Stabilization of physiological digestion. Secures food transitions, improves the recovery of rations, promotes immune strengthening, contributes to better management in preparation for peripartum. Increases electrolyte balance allowing better mobilization of bone calcium and greater tone at calving
For:
Pregnant Sows
Packaging:
25 kg bag
To discover Feed Line products:
Contact us for an appointment, to receive the fact sheets, and for more information on how we work
Find out more about the Feed Line product line:

Request a presentation appointment
Receive complete product listings
Contact: 1st contact by e-mail please
E-mail:

contact@feed-line.com